Best Places To Celebrate New Year's Eve In Dubai
Dubai New Year's Eve is one of the most prominent events in the city, and it has grown in popularity across the world in recent years, attracting millions of visitors from all over the world. Famous people and regular people alike go to Dubai for the active nightlife, the many things to do and see, the majesty of the desert, the crystal clear sea, and the delightfully pleasant temperatures. In Dubai, opulent celebrations envelop the city on New Year's Eve, and visitors may choose from a wide range of restaurants, dinner cruises, and elegant parties held on the city's stunning rooftops. Dubai's New Year's Eve is unquestionably the ideal time to visit the city. The atmosphere is cosmopolitan and energetic this month, and you can even take a plunge in the ocean thanks to long days of brilliant blue skies and excellent temps.
Dubai Because New Year's Eve coincides with the peak of the high season, prices tend to rise, making it critical to book hotels, excursions, tickets, and experiences well ahead of time. Let's see what the greatest activities to do and locations to visit in Dubai on New Year's Eve are!
Catch the Vibes – New Year's Eve fireworks
The Burj Khalifa is the greatest place to be on New Year's Eve in Dubai. You may observe one of the world's tallest structures, as well as one of the most beautiful and largest fireworks displays in the world because Dubai is a nation of superlatives.
Every year, visitors from all over the world flock to this one-of-a-kind event. A brilliant water show awaits you at Dubai's magnificent water fountains, in addition to the massive firework display.
A musical performance is performed in conjunction with these. The Dubai Mall, the terraces at the bottom of the Burj Khalifa, and the neighboring luxury hotels offer the greatest views of the New Year's Eve fireworks in Dubai.
Level 43 Sky Lounge, Iris Dubai, and the Uptown Bar are among the restaurants and bars with rooftop terraces that give spectacular views of the New Year's fireworks.
 New Year's traditions of Dubai
New Year in Dubai or the United Arab Emirates will not be officially celebrated on December 31st. Because they follow the Islamic lunar calendar, which has a year that is 11 days shorter than the Gregorian calendar. Year to year, the exact day varies. The sunset also signifies the beginning of a new day.
As a result, Muslims observe the New Year for two days. The year begins with a feast and wind instruments, rather than wine and rockets.
According to New Year in Dubai's tradition, the feast is divided into seven sections, each symbolizing health, happiness, well-being, and fertility. Sweet pastries, a coin, whitebeams, green wheat shoots, an apple, vinegar, and garlic are among the items.
Spend New Year Eve With Marvels
The Height of Fun – Burj Khalifa
New Year's Eve will be marked with a "great masterpiece of pyrotechnics, lights, and laser show" at the world's tallest structure. While few specifics about the theme have been revealed, Mohamed Alabbar, the founder of Emaar, the Burj Khalifa's developer, has stated that the attraction will give "an even grander spectacular celebration" this year.
Downtown Dubai will be decked out in decorations, and the fireworks, laser show, and light show will be timed to coincide with The Dubai Fountain show for a spectacular show.
Emaar will employ many preventive measures, including thermal cameras, social distance, contactless payments, and frequent deep cleaning and disinfection, by Dubai Government standards and regulations, to protect public health and safety for all visitors.
Fascinate yourself – At Global Village
Families searching for a place to watch the New Year fireworks from across the world can visit Global Village, which will be bringing back its "around the world" New Year's Eve pyrotechnics. This means that beginning at 8 p.m., guests at the multicultural venue will be treated to hourly fireworks that correspond to the clock striking midnight in several places throughout the world.
Ring around Thrill – At Burj Al Arab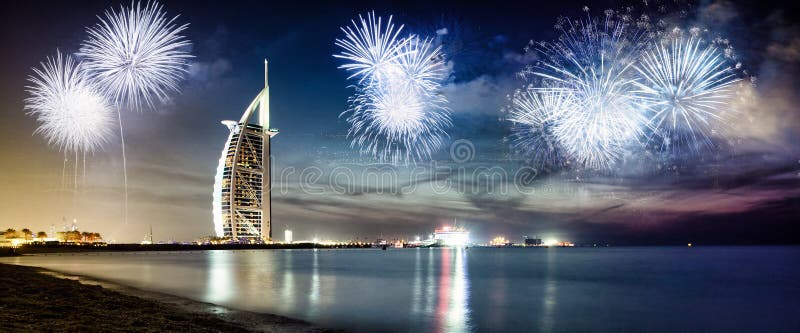 The Jumeirah Group has confirmed that this year's fireworks display will take place at the premium hotel. It'll be a terrific way to ring in the New Year, whether you watch the fireworks from one of the restaurants at Souk Madinat Jumeirah or Kite Beach.
What if you celebrate this New Year with the whole world? Seems unbelievable? Well not with Expo 2020 where the whole world has gathered in a single place.
There's a buzz in the air as we countdown to New Year's Eve with the world's biggest performance in full gear. Start by touring the country pavilions, pausing along the route for gourmet treats, and then enjoy the jam-packed entertainment schedule, which includes live performances, high-tech exhibits, and drone demonstrations. Expo 2020 Dubai will be a festival to remember, with the best of the globe coming together. And for sure, there will be surprise performances and something interesting for you to be overwhelmed with on New Year's Eve.
Catch New Year Vibes from Sky – Ain Dubai
On Bluewaters Island, ring in the New Year at Ain Dubai, the world's highest and largest observation wheel. Expect unrivaled 360-degree views of the cityscape from one of the 48 passenger cabins, which come in three varieties: observation cabins, social cabins, and private cabins. The latter is perfect for private gatherings with friends and family. If you want the coveted midnight time slot, make sure to reserve ahead of time.
On New Year's Eve, Cruise on a traditional dhow
The dinner cruise is another fantastic option if you're looking for a different way to celebrate New Year's Eve in Dubai. It offers a tantalizing combination of great food, live entertainment, attentive service, and an intimate ambiance. You can enjoy a multi-course buffet supper and a champagne toast at midnight as the Dhow sets sail for an unforgettable three-hour voyage around the breathtaking views of Dubai Marina or Dubai Creek. Before this spectacular New Year's Eve cruise comes to a close, be amazed by the dynamic splendor of the glittering city skyline, be amused by DJ performances, and experience up-close views of fireworks from the middle of the ocean.
Dhow Cruise Dubai Creek – Have Marvelous Insights
Dubai Creek, which runs through the center of the city, has long been the lifeblood of the city's economy. On either side, it has the city's oldest neighborhoods: Deira and Bur Dubai. Enjoy the bustling bazaars and magnificent city views of Dubai.
A dhow tour on Dubai Creek allows you to get a closer look at the region's ancient terrain, which is dotted with a combination of magnificent old structures topped with wind towers, lovely gold, and spice souks (traditional Arabian bazaars), and mesmerizing contemporary views. Overall, it guarantees that you will get a true experience of New Year's Eve while enjoying Dubai's culture and heritage.
If you want to experience the dynamic core of modern Dubai while also getting a taste of culture and tradition, Dubai Marina is the place to go. A Dhow Cruise Dubai Marina is more picturesque and relaxing than one on Dubai Creek.
This trip allows you to take in Dubai's brilliant avant-gardism as it passes by some of the city's most current architectural styles and astounding wonders, such as the Palm Jumeirah, Atlantis The Palm, and Burj Al Arab.
Yacht Party On New Year's Eve – Come To The Lotus Megayacht
Enjoy The Westin Dubai Mina Seyahi's scrumptious international buffet, which includes an open bar, live culinary stations, and a choice of salads. Multiple entertainment zones, beautiful views of the Dubai skyline and fireworks are all included on this New Year's Eve yacht in Dubai. There will be live music, as well as a swimming pool and a jacuzzi!
Enjoy Shopping and watching Fireworks at Souk Madinat Jumeirah
Souk Madinat Jumeirah, located next to the Burj Al Arab, is a lovely shopping and entertainment complex with the ambiance of an old Arabic market. It's also known for its New Year's Eve fireworks. Before ringing in the New Year in a wonderful atmospheric environment, visitors can enjoy a memorable meal at one of the Souk Madinat restaurants.
Because Dubai has near-perfect weather in December, it's also feasible to ring in the New Year on the beach by renting one of the lovely beach cabins. Another alternative is to go on a luxury dinner cruise, which will allow you to witness the most spectacular fireworks reflected in the water surrounding the boat. Make a reservation and arrive early for whatever you plan to do on New Year's Eve in Dubai. The downside of Dubai's massive popularity during New Year celebrations is traffic bottlenecks and big crowds.
On New Year's Eve 2022 in Dubai, one of the most well-known and best places to visit, especially for you and your family, is the Dubai Festival City. During New Year's Eve, you can participate in a variety of activities and greet the New Year. The fireworks, which will have a significant influence on you throughout New Year's night, are particularly exciting.
Dubai Festival City management likes to put on a spectacular and record-breaking fireworks extravaganza, which Dubai Festival City Mall will try with IMAGINE. Many New Year's Eve 2022 fireworks exhibitions are planned for the night in the Dubai Festival City Mall, with the entertainment beginning after sunset.
The bay will be lit up with fireworks every night until the New Year arrives in 2022. Finally, at midnight, a spectacular performance will usher in the New Year.
Roam Around Atlantis The Palm
For their New Year's Eve Gala Dinner, Atlantis, The Palm is going all out, with a 30-piece band, a lavish buffet table, and a slew of live cooking stations — and that's only the beginning. As the clock strikes midnight, the sky will light up with a spectacular display of one of the world's most anticipated fireworks shows. Upgrade to the Golden Circle for a table in the heart of the action, as well as a delicious box of caviar and unlimited white truffles sprinkled on your meal. Special meal packages at Atlantis' top restaurants, including Ossiano, Nobu, and Bread Street Kitchen, are also available, as well as a special superhero-themed NYE party for the kids.
Are you planning a New Year's Eve celebration in the United Arab Emirates? To experience zero gravity, go skydiving in the Dubai Drop Zone. On New Year's Eve 2022, it will provide guests with a once-in-a-lifetime experience. Spend the last day of the year in Dubai's most popular hotspot, partying and chilling with friends. Begin the New Year's Eve celebrations with electrifying live music and one-of-a-kind dancing performances.
Final Words – Have A Marvelous New Year in the City of Gold
In Dubai, New Year's Eve sets the stage for spectacular celebrations. This city offers it all, from world-record-breaking fireworks displays from the world's highest skyscraper to elegant beach galas and star-studded performances by worldwide singers.
New Year's Eve celebrations in Dubai are always a major affair, with spectacular fireworks displays at the city's world-famous monuments. As spectacular fireworks, lights, and lasers blaze through the Downtown sky this year, will make your new year's eve lavish and amazing. Take advantage of all the festivities that Dubai has to offer to ring in 2022 with your loved ones. Explore family-friendly gatherings with games for the small ones, or camp out in the open desert — there's something for everyone, including front-row views of Dubai's iconic fireworks displays when the clock strikes noon.
However, maintain social distance and follow all the Sop's of the place wherever you go to enjoy.
Related Blogs: