Stay Overnight on Luxury Private Yacht in Dubai
Hectic daily routine drains all the physical and mental energy. Consequently, the ability of our mind to function effectively is substantially decreased. In such circumstances, the only way to get back on track and revive all the positive energy is a mini getaway. You must be pondering that what's the best way to make the most out of this mini getaway, right? In our opinion, the most accurate way is to stay overnight on a private luxury yacht by booking an overnight yacht rental in Dubai.
A Mini Getaway
This mini-getaway will be the epitome of perfection and infinite fun. Dubai is acclaimed for cruising on private luxury yachts. As it is an everlasting experience that creates memories that stay with you for a lifetime. After all, time flies and memories persist, which make us cherish the happy moments of our past. So, the ideal way to take a break from the hustle and bustle of our daily lives is a yacht stay in Dubai.
If you are thinking that these overnight boat trips are monotonous and tedious then it is a wrong perception because there is a lot that you can do on your overnight yacht rental Dubai getaway. You must be intrigued to know that, exactly, what are those lots of things that one can do on a private yacht in Dubai during an overnight stay, right? So, stick with us till the end of this article to know everything in detail.
Live Barbecue with Unrealistic Views
Firstly, the bewildering activity that we have on our list is a live barbecue with unrealistic views. Who doesn't love barbecue, right? Palatable and succulent food with scenery that leaves you awestruck is always on the bucket list for most people. Then why not turn your dreams into reality by having a live barbecue on a one-night yacht rental trip.
Just imagine the starry-eyed view of skyscrapers and their impeccable infrastructure while you are floating on the tranquil water waves with mouth-watering barbecue being served to you. A treat for the eyes and the perfect dish to satisfy your cravings will be a peerless and surpassing combination to experience. This activity will surge the serotonin levels substantially which means you'll be the happiest that you have ever been.
Watch Your Favorite Movie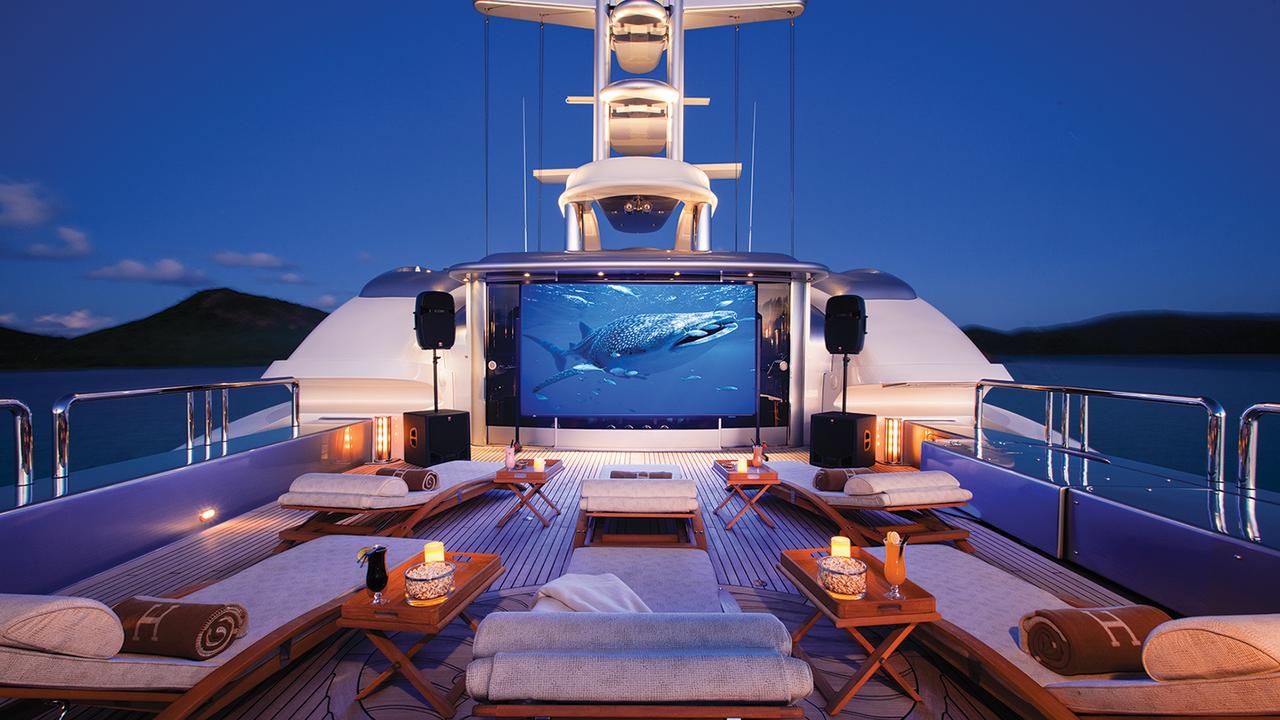 Secondly, the activity that we have onboard for the overnight yacht rental Dubai trip is watching your favorite movie. You will be gleeful to know that luxury yachts in Dubai have an impeccable amenity which is a sumptuous cinema. Then why not take supremacy from this situation and enjoy watching your favorite movie with your loved ones on a yacht. We know that this idea sounds like something out of this world. Hence, watching a movie will be a great way to spend time in a productive way on a private yacht. To enhance the experience, you can binge on your favorite snacks as well while watching your favorite movie with your family or friends. Sounds incredible, right?
Experience Moon Sighting and Surreal Sunrise
Last but not the least, we have moon sightings and a surreal sunrise to experience. Endorsing the extravagant scenery of nature is just like entrapping positive vibes and detoxifying yourself physically and mentally. Laying down under the vast sky, with a refreshing breezing striking your soul, and staring at the moon for hours will be an unforgettable experience.
And if you are one of those who love to admire the natural scenery especially the moon then it will be one of the superlative experiences of your life that you can't forget. In addition to that, you can experience a surreal sunrise on a luxury yacht as you are having an overnight stay. Just imagine the sight of the sun rising from splendid canals, skyscrapers, and islands of Dubai which you are experiencing with your naked eye.
Sounds like a fantasy, right? Cruising on a yacht is all about the sightseeing of the glory and heavenliness of Dubai. For a reckless experience, you can listen to your favorite music side by side as well. So, spending a night on a yacht rental Dubai will prove to be a blessing in disguise for people who are fed up with their tedious and tiring daily routines. Also, it is a splendid way to endorse the beauty of Dubai.
Glad to know that you have made it to the end. Hectic daily life schedules do not let us enjoy our lives and make indelible memories. So, it is always a great option to take a mini-break, gather up energy, and grow your bond stronger with your family or friends. We believe that spending a night on a luxury yacht has to be the best option one can opt for a mini getaway as there are a lot of activities that will help you to refresh yourself physically and mentally.
Related Blogs: